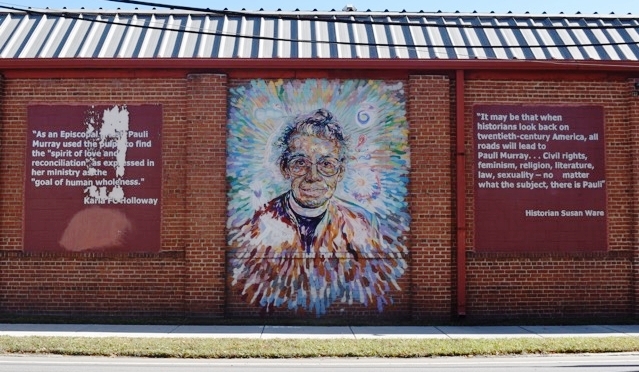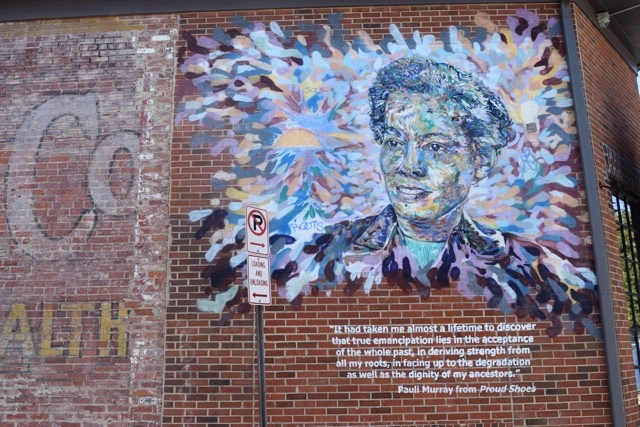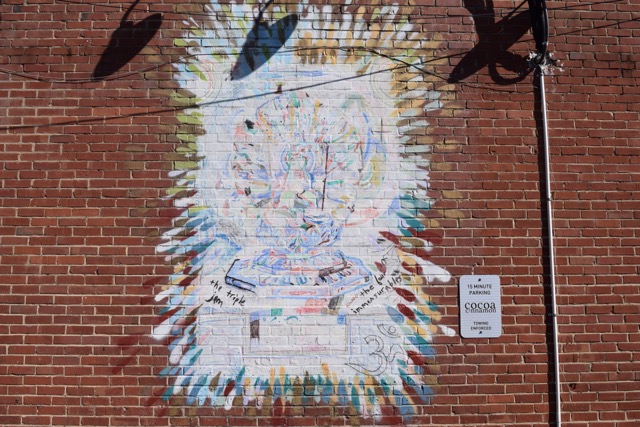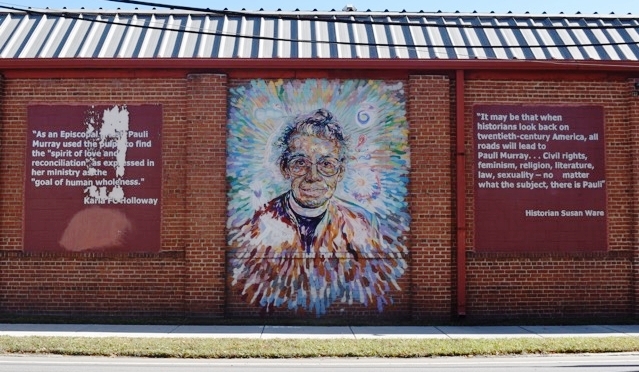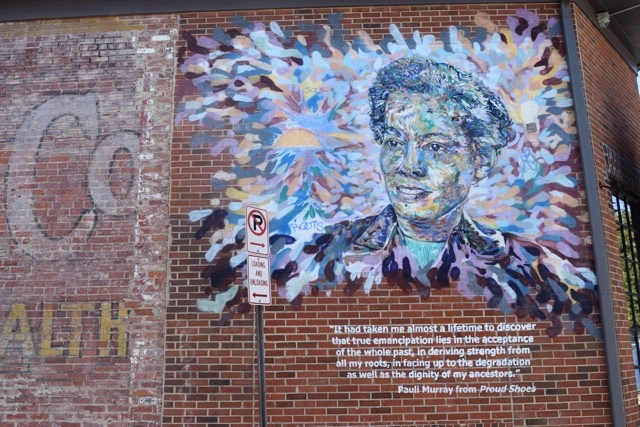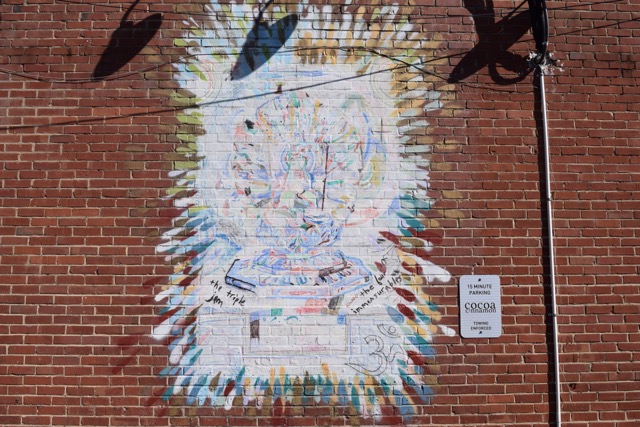 Pauli Murray

from the


Face Up: Telling Stories of Community Life Project, 2008–09
ArtisT: brett cook

Locations:
117 S Buchanan Blvd, 313 Foster Street, +
1101 W Chapel Hill StreeT (The Cookery)
Between 2007 and 2009 14 murals were completed in Durham as part of the collaborative public art project "Face Up: Telling Stories of Community Life." The project was organized by the Center for Documentary Studies (CDS) at Duke University, which worked closely with the Southwest Central Quality of Life Project (QOL), an organization that represents six neighborhoods of southwest central Durham and is dedicated to improving the lives ofresidents. With documentary arts as a center point, these two groups came together to ignite what is now known to many as "Face Up." It resulted in an archive of interviews and research on community history and people, 14 murals, a book, and a gallery exhibition.
During the fall of 2007, artist Brett Cook began working on the project as part of a two-week residency. In the spring of 2008, he continued his work as the Lehman Brady Visiting Joint Chair Professor in Documentary Studies and American Studies at Duke and UNC–Chapel Hill. Cook's passion for and experience with art making rooted in collaboration and community provided the foundation for the mural project. Cook led the mural portion of the project, directing the creation of 14 murals in 6 different neighborhoods: Burch Avenue, Lyon Park, West End, Lakewood Park, Morehead Hill, and Tuscaloosa-Lakewood.
In researching the project, Cook's team of collaborators identified a figurehead for the murals, someone who embodied the ideals of community life that the murals were meant to portray: Pauli Murray. Pauli Murray was born in Baltimore, Maryland in 1910, and later moved to live with her aunt in Durham after her mother passed away. She had a passion for academics from an early age. In 1928 she attended Hunter College in New York City and, shortly after graduating, began teaching with the Works Progress Administration (WPA) and as an activist for the Workers Defense League. Later, Murray applied to the University of North Carolina at Chapel Hill graduate program and was denied admission because of her race. This spurred her to go onto to study law at Howard University and to combat issues surrounding race, gender, and politics. Murray was not only an important figure in Durham's history, but she was also a critical player in the American Civil Liberties Unions and the National Organization for Women. Her work gained her the respect of many prominent figures of her time, such as Eleanor Roosevelt, Philip Randolph, Martin Luther King, Jr., and Thurgood Marshall (who described her 1951 book, States' Law on Race and Color, as the bible for civil rights lawyers). Murray was the first black female to be ordained by the Protestant Episcopal Church, and she was a life-long crusader of civil and human rights. For this and much more, the group decided to memorialize her through the mural project.
Five of the sites depict Pauli Murray, and others include subjects that further enhance the project's central theme of community. The Avalokiteshvara Buddha, a figure in Buddhist culture who works to instill well-being in others, is painted on the historical Broadway-Ward Grocery building in Lakewood Park now occupied by the Chameleon Nightclub (2013 Chapel Hill Road). The Aztec Calendar was painted on the wall of the Azteca Restaurant located at 1929 Chapel Hill Road. It embraces a lesson from the Aztec calendar, which notes how the universe consists of two contrasting forces and thus brings equilibrium. Cook's goal for these additional murals was to offer representations of what a multicultural community should be – a group of individuals whose differences make them stronger and foster awareness and empathy for others.
Cook provided a preliminary outline of the images, and the rest of each mural was left for the community to fill in together. Cook believed that, through the act of artistic collaboration, the individuals involved would come to understand their connection to others, and be open to "the idea that we don't have to be limited by one identity…we can be seen as infinite and connected to all things." In bringing different groups together, he emphasized the power of creating things collectively. When the murals were completed, the final products became extensions of everyone who contributed. The portraits of Pauli and the other murals in the "Face Up" project are lively, diverse, colorful works of art indicative of the communities that made them. Thankfully for us, they are peppered around town and act as daily reminders of the power of community and collaboration.
True Community is based upon equality, mutuality, and reciprocity. It affirms the richness of individual diversity as well as the common human ties that bind us together.
– Pauli Murray
Learn more about pauli murray here !